Purpose
To determine Bursting Strength of knitted/ woven/non-woven fabric/carton box and card board.
Features
Widely used to measure resistance to rapture in various materials like paper, board, fiber and corrugated board.
Capacity – 35 kg/cm².
Specially designed equipment to determine bursting strength of knitted fabric.
Working under constant rate of increasing Hydraulic pressure principle.
Bright LCD display of reading with peak hold facility
Bursting strength reading in kg/cm².
Manual clamping through rotation of wheel handle.
Inbuilt RS 232 option (optional).
Glycerine is used as test fluid.
Related Standards
BS 3137/ 3424, ASTM D 3786, ISO 2758/ 2559/ 3303/ 3689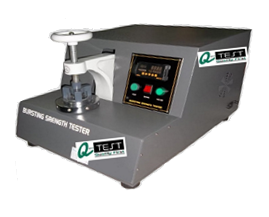 [Our Instrument comes with Calibration certificate traceable to NPL / NABL, Warranty certificate and detailed user manual].