Fabric Inspection Machine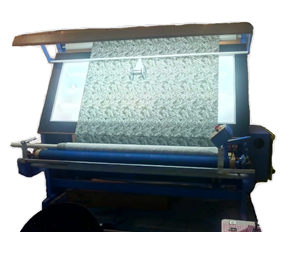 Purpose
Inspect any kind of fabric – woven or knits.
To check weaving/ dyeing / printing defects.
To measure the length of fabric inspected and indicates in the meter counter.
To convert small rolls/ takas – flat to bigger rolls.
Features
To inspect any kind of Fabric – Woven or knits of up to 72 inches width & check for weaving/dyeing/printing defects.
Option for forward motion and reverse motion.
fabric speed can be adjustable.
Lights on both top and bottom to make visible fabric defects and for colour/defect evaluation.
Analog counter to measure fabric of inspected quantity / Digital Counter (Optional) at extra cost.
Emergency stop button provided.
Inching facility also available.
Foot operation option and digital control panel (Optional) at extra cost.
Option of EDGE control mechanism for perfect roll formation for fabric exports (Optional) available with us at extra cost.
Digital fault control counter (Optional) at extra cost
Speed control zero to thirty-five meter per minute.