Purpose
To find out 'colour fastness to rubbing' of any kind of fabric/ yarn/ garments.
Can be used as per both ISO and AATCC standards.
Features
To find out 'colour fastness to rubbing' of any kind of Fabric/yarn/garments as per both ISO/ European/ AATCC standards.
All components are made with mild steel and chrome plated for long life and trouble-free operations.
Test specimen is made to rub against standard adjacent fabric under standard test conditions.
After the test specimen is compared with grey scale for rating the results, finger dia 16mm for apparel fabrics and 25mm for furnishing fabrics.
Grey scale is if required should be purchased separately as per ISO or AATCC methods.
Colour fastness to rubbing – dry or wet for even yarns can be tested with this instrument.
For testing colour fastness to yarn – extra attachment to hold yarn test samples can be provided at extra cost.
Related Standards
ISO 105 X 12, M&S C8, BS 1006 D02, JIS L 0849, AATCC 8/165, ASTM F1319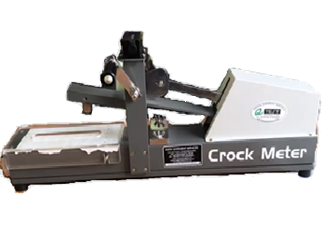 [Our Instrument comes with Calibration certificate traceable to NPL / NABL, Warranty certificate and detailed user manual].