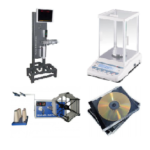 Purpose
Used to determine CSP – Count strength product of Lea / Hank.
Features
Electronic Lea Strength Tester


Electronic lea strength tester used to find out strength of the Lea Skein. Working under CRE Principle. Imported geared motor with digital display output. Provision available for RS232 computer interface.
Provision available for automatic computer entry and manual entry.
Capacity : 250 Lbs. Accuracy: 0.1 Lbs.

Digital Count Tester


Precision weighing balance, used to Count, Hank, CSP, GSM analysis and also to measure accurate mass of laboratory samples. Provision available for RS232 computer interface. Direct display of yarn counts available in this machine.
Capacity : 600 g Accuracy: 0.01 g

Wrap Reel Motorized


To produce skeins of yarn of a pre-determined length and number of turns for count and strength testing. Motorized reel with Fixed 120 yards / 60 yards length of lea skeins can be produced.
No. of Cone Capacity : 5 Station

CSP Software


Automatic count and strength system can interface any type of RS 232 enabled electronic balances.
Features :
Count and denier analysis for yarn
Hank analysis for Sliver and roving.
Strength analysis for yarn.
CSP analysis for yarn Output statistics: Mean, CV%, SD, Q95 (+/-) Min, Max and RH corrected values.