Purpose
To cut any kind of fabric – woven/knits/non-woven/ paper in circle for of 100 sq cm.
Features
Instrument is used to cut any kind of fabric –woven/knits/non-woven/paper in circle form of 100 cm².
Any Kind of textile / paper/industrial textile material of any GSM can be accurately cut.
Finest grade of aluminium used in the main body for lightweight, robustness & resilience.
Smooth precision engineered components for excellent performance.
Stainless-steel blade holders for lifelong excellent operations.
Reversible German blades are given along with the instrument.
Special rubberized foam cutting pad for smooth cutting and long life of the blades.
Related Standards
ASTM D 3776/2646, ISO 3081, BS 3424/2471,12127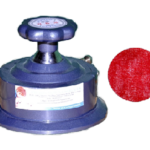 [Our Instrument comes with Calibration certificate traceable to NPL / NABL, Warranty certificate and detailed user manual].