Purpose
To find out fibre composition by fibre cross section method. Powerful microscope with computer interface and pre-loaded textile software enables easy identification of fibre.
Features
Instrument to identify fibre composition on – physical method.
Cross section views and projection of image on computer screen.
User can measure fibre density, fibre diameter & other parameters.
User can save data and transfer files further.
Captured images can be compared with 112 pre – loaded cross section image of various fibre and fibre blend possibilities.
One can get idea of exact fibre composition & blend percentage of fibre inspected
Stand: Stable stand with convenient location of focus controls with special plastic hand rest.
Trinocular Observation Head: Inclined at 30°, 360° rotatable.
Eyepiece: Wide field 10x (paired) F.O.V. 18 mm.
Illumination: High brightness single 3W LED cold light source.
Related Standards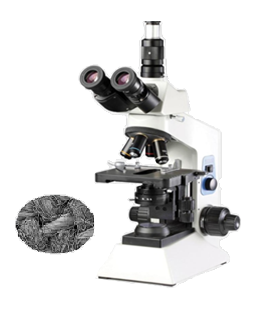 [Our Instrument comes with Calibration certificate traceable to NPL / NABL, Warranty certificate and detailed user manual].