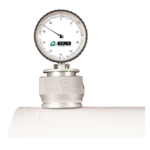 Purpose
Used to determine the hardness/ softness of yarn bobbins/warp beams/cones/cheese etc.
Features
Portable instrument.
Also called package density meter.
Determine density or hardness of yarn cone/package or beams of yarn or fabric.
Very useful in package dying & yarn dying sections as dyer can separate cones which are too loose or which are too tight.
Variation in package density leads to "cone to cone dye variations".
Avoid damage to bobbins and warp beams.
Flat working surface is recommended.
Ideal for bobbins with a diameter of more than 400 mm.
Hardness Tester with indentation ball of 5 mm diameter is recommended for standard packages.
Related Standards: