Purpose
To find out pH content of any kind of fabric/ textile material by adopting scientific process.
Features
pH of fabric/garment can be found out by cutting the fabric to pieces and boiling them in distilled water.
A must instrument for QC labs.
Digital display of pH up to two decimals.
Multi-point push-button calibration (up to 3 points) with auto-buffer recognition – choice of USA and NIST pH buffer standards for quick calibration with no calibration mistakes.
Viewing of electrode characteristics electrode slope and offset value to verify electrode performance.
Automatic temperature compensation (ATC) for optimum accuracy under fluctuating temperatures.
Stability indicator prompts whenever reading stabilizes.
Self-diagnostic with message codes for easy troubleshooting.
All size beakers, conical flask, test tubes, wash bottle available with us at extra cost.
Related Standards
AATCC 81, ISO 3071, M&S C7, Next TM33;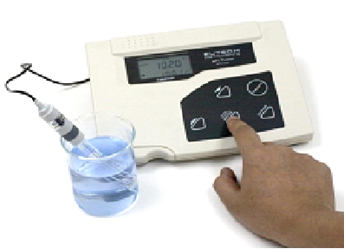 [Our Instrument comes with Calibration certificate traceable to NPL / NABL, Warranty certificate and detailed user manual].