Purpose
To measure stretch percentage and recovery properties of woven/ knitted and lycra fabrics/ narrow elastic tapes.
Features
Static growth tester consists of six numbers of clamp arrangements and three numbers of clamps to hold the tested fabric by its sides.
Wooden board can be mounted/Hung on the wall.
Test weight shall be rectangular in shape and its weight as per standards, including the weight of hook required for hanging the test sample.
Static load is applied for a specific time and released.
Fabric properties can be measured like Stretch and Recovery in percentage.
For determination of similar characteristics using the constant-rateof-extension (CRE) type tensile testing machine as per test method ASTM D 4964.
Related Standards
ASTM D 5278, ASTM D 3107, ASTM D 2594;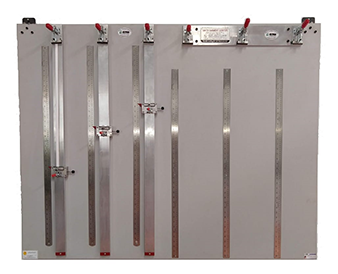 [Our Instrument comes with Calibration certificate traceable to NPL / NABL, Warranty certificate and detailed user manual].