Purpose
To determine Elmendorf Tearing Strength (Ballistic Strength) of textile fabrics and work factor of fabrics.
Features
Supplied with 2 extra calibrated weights to increase capacity of machine from 1600 gm to 3200 gm and to further 6400 gm.
Adjustable knife to adjust pre-cut length 20 mm.
Supplied with three calibrated weight to calibrate each range.
Adjustable foots for levelling the equipment.
It gives very accurate results between 20 – 80 % of the capacity.
All components are made of high quality, mild – steel with chrome plating to ensure trouble free working of machine.
However, 1600 gms weight is done in brass.
Accessories include template, Allen key and extra cutting blade.
Related Standards
BS 4253, ASTM D 1424, DIN 53862, BSEN ISO 13937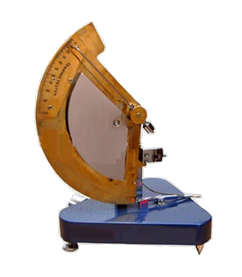 [Our Instrument comes with Calibration certificate traceable to NPL / NABL, Warranty certificate and detailed user manual].