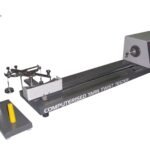 Purpose
To find out twist per inch or twist per cm in any kind of – Single/ Double or plied yarn.
Features
Determine yarn twist in single plied and open-end yarns.
Rigid model with 20-inch variable specimen length.
All components made in stainless steel to offer long life and troublefree operations.
Pre- settable digital counter will display number of twists in the yarn.
Microprocessor based operation.
Direct TPI / TPM results in digital display for selected gauze length.
No manual calculations required.
Adjustable variable speed control option.
Automatic twist measuring system can interface any type of RS 232 enabled twist tester.
Output statistics: Mean, CV%, SD, Q95(+/-), Min, Max.
Reports: Daily, weekly, monthly, frame wise, count wise, operator wise, lot wise, shift wise with graphical charts.
Related Standards:
IS 2061, BS 2085, ASTM 1422/1423, DIN 53832;