Purpose
Used for sample dyeing of cotton, lea or yarn. At a time six samples can be dyed and treated.
Features
Used for sample dyeing of cotton yarn, lea.
At a time 6 samples in water batch 6 Holes can be treated.
Beautifully designed in stainless steel rectangular, double walled water bath.
The unit is supplied complete with six heavy duty stainless-steel beakers with lid.
Each tumbler of 500 ml capacity.
Temperature is controlled by a thermostat from ambient to 100 °C with a Sensitivity of ±1 °C.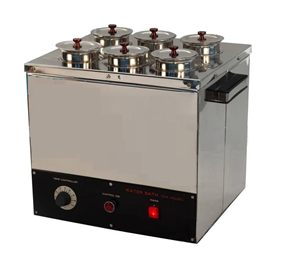 [Our Instrument comes with Calibration certificate traceable to NPL / NABL, Warranty certificate and detailed user manual].