Purpose
This instrument offers standard procedure for determining the resistance to water penetration.
Features
The instrument detects ability of fabric to resists water penetration.
Increasing hydrostatic pressure method is used to determine the resistance to water penetration.
The pressure at which the first drop of water penetrates through the test specimen is to be determined.
Rubber gaskets are provided for water tight arrangement.
Valves are provided in the water line, for adjusting the rate of rise of pressure.
The pressure exerted on the test specimen is indicated on a digital pressure indicator.
Provision of peak pressure memory.
As per test standard AATCC 127.
Compressed air line is to be provided by the user.
Related Standards
IS0 811-1981, NWSP 80.6, AATCC 127-2018;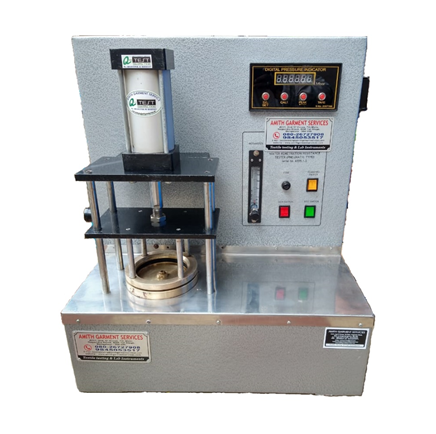 [Our Instrument comes with Calibration certificate traceable to NPL / NABL, Warranty certificate and detailed user manual].