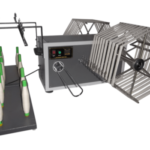 Purpose
To produce leas/skeins/hank of yarn for further testing of yarn count or yarn strength.
Features
To produce skeins of yarn of a pre-determined length and number of turns for count/ denier and strength testing.
Capacity of 10 cops.
The reel circumference with 1.50 yards or 1 meter.
Pre-selection of 30/60/120 yards of skein.
Mechanical pre-set counter up to 999 revolutions.
Specially designed bobbin holding stand, which can accommodate bobbins dia up to 100mm.
Bobbins stand is equipped with a yarn-tensioning device.
 Customer need to specify required reel circumference at the time of ordering.
Customer also required to suggest maximum package diameter to design suitable creel stand.
Related Standards:
ISO 2060, BS 2010, ASTM D1578, DIN 53830;