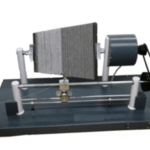 Purpose
To find out yarn unevenness like thick places, thin places, knots, neps, snarls etc by winding the sample on a standard black board tapered. Quality of yarn such as cleanliness, smoothness, general appearance etc can be assessed.
Features
Economical with changeable speed based on count range by step pulley.
Also available motorised model with auto stop option and uniform winding facility.
Option of rectangular board available.
Fully bearing mounted drives for easy operation.
The equipment is built on a rigid castled base.
A set of change gears gives five different spacing to the yarn for wrapping yarn of different counts
It is finished in dark grey painting and bright chrome/zinc plating to give it a corrosion resistant finish.
Additional boards, both rectangular and tapered are available as optional accessories.
For evaluation ASTM standard boards can be made available at extra cost.
Related Standards: